Growth Trends for Related Jobs
The need for armed security officers is a career field that is in demand. Malls, jewelry stores, banks, and many other places of commerce understand the need to have an armed "protective guardian" to provide over watch for their businesses. Downturns in the economy are generally followed by subsequent rises in crime. The mere presence of an armed guard can be enough of a deterrent to stop many crimes before they happen.
How to Become an Armed Security Officer in North Carolina
To become a security guard in North Carolina a number of requirements must be met. The person must be at least 18 years old and be a high school graduate of have a GED, they must be a U.S. Citizen or legal resident alien, they must be of good moral character, meaning no criminal record of any kind, especially felonies. The individual must also complete 16 hours of training by the North Carolina private Protective Services division. These are the minimum standards to become a security officer. To be allowed to be armed requires more training.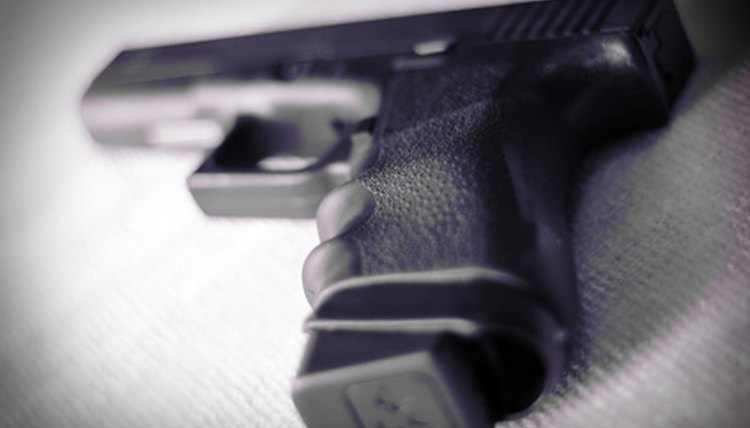 To become an armed security officer in North Carolina, an applicant must be at least 21 years of age, be a U.S. citizen or legal resident alien, have no criminal history, complete an additional 24 hours of training and score 80% or above on firearm qualification. The training includes legal issues for security offficers, the legal limitations on the use of firearms, basic safety with firearms, handgun fundamentals, operation, and also night firing of the handgun. The standards are set forth by the North Carolina Department of Justice Private Protective Services Board. Re-certification with the handgun requires an additional 4 classroom hours and passing the range portion of the training with a score of 80% or better.
less lethal shotgun and shells. image by Kevin Chesson fromFotolia.com
To be allowed to carry a standard 12-gauge shotgun on the job, the security officer must complete even more training. Four hours of training are required on legal limitations on the use of shotguns, shotgun safety, which includes procedures on the range, the operation and maintenance of a shotgun, as well as the fundamentals of using a shotgun. Again, a minimum score of 80% is required to pass the shotgun portion of the licensing. Additionally, one hour of classroom instruction is required for shotgun re-certification, in addition to an 80% or better passing score on the range. You now know what is required to become an armed security officer in North Carolina. Contact the Private Protective Services Board in the state to get started!
References
Writer Bio
Cliff Wiese is a certified strength and conditioning specialist and a sports performance coach. His work has been published in "Women of Diet & Fitness," "Better Fitness & Health," "Good2Health," and "SENIORity Magazine." He has a Bachelor of Arts degree from Schreiner University and attended graduate school at the University of Oklahoma.